The current COMEC is French Lieutenant General Laurent Kolodziej.
He took over this post 05th September 2019.
The Commanding General of Headquarters Eurocorps (COMEC) is a three star General from one of the Eurocorps Framework Nations. His command is exercised from Headquarters Eurocorps (HQ EC) in Strasbourg, France.
The post of Commanding General is filled on a rotational basis of two years. He is responsible to the Eurocorps Common Committee, the political-military decisive body representing the Framework Nations.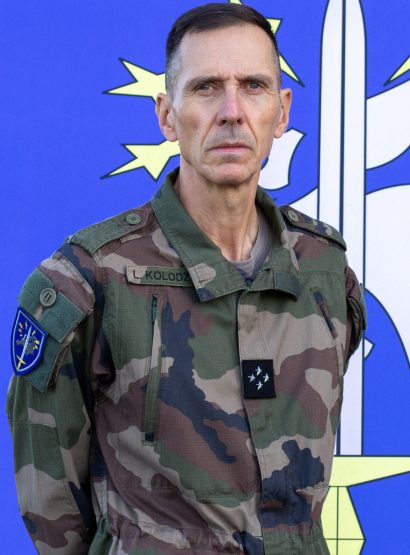 Lieutenant General Laurent Kolodziej was born in Paris in 1962 and was commissioned into the French cavalry in August 1987, serving in four different regiments as a junior officer including a period spent with the French Foreign Legion in Orange and Djibouti.
Having completed Joint Staff and Command training he joined the 4th Régiment de Chasseurs, the light-armoured regiment of the French mountain brigade, as operations and training officer in 2000.
Thereafter, employed as an SO2 in the French Ministry of Defence (MoD) he developed extensive interagency experience with the Defence Legal Office. He attended the British Defence Academy, Shrivenham, United Kingdom (UK), as the French Liaison Officer to the UK 2002-2005 and then returned to France to take Command of the 4th Régiment de Chasseurs until 2007.
Continuing the theme of International Engagement he returned to Shrivenham in 2008 to complete the Royal College of Defence Studies course before taking post as the French Military Attaché to the UK in London in 2009.
On promotion to Brigadier General, Laurent Kolodziej commanded the 6th Light Armoured Brigade – one of only two Amphibious French Brigades – 2012-2014.
He led the department for International Engagements on behalf of the French MoD 2014-2016 and arrived as Chief of Staff Rapid Reaction Corps France in Lille in 2017. He was appointed Commander of RRC France on 1 August 2018 and was promoted to Lieutenant General on the same day.
Lieutenant General Laurent Kolodziej has completed operational tours in Croatia, Bosnia and Kosovo, as well as having commanded his Brigade on operation SERVAL in Mali, May-September 2013.
He has three adult daughters and enjoys: running, skiing, mountaineering and horse-carriage driving. He is also a fan of military history and listens to a wide variation of music.