The Commanding General Eurocorps (COMEC) is a lieutenant general (NATO 3 stars). The Deputy Commander (DCOM) is a major general (NATO 2 stars). The staff is directed by the Chief of Staff (COS), a major general or a brigadier general; he is supported by three Deputy Chiefs of Staff (DCOS) for Operations, Support & Enabling and Influence & Assistance (I&A), whom are brigadier generals (NATO 1 star). These generals are members of the Command Group.
The Commanding General is directly supported by advisors: The Legal Branch (LEGAD), the Public Affairs Office (PAO), the Medical Adviser (MEDAD), the Air Representation (AREC), the Navy Representation (NAVREP) and, in operations, a Political Adviser (POLAD).
The Command Group, the advisors and the Staff together form the Headquarters, whose primary role is to plan and conduct operations ranging from humanitarian aid and crisis reactions to the defense of member countries and the Alliance. In operations, the COMEC commands major subordinate units and coordinates land operations supported by air and maritime forces.
Eurocorps Headquarters is supported by a Multinational Brigade (MNCS BDE).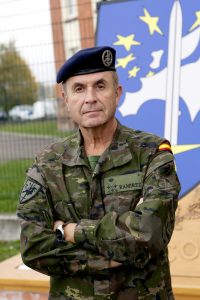 The Commanding General of Headquarters Eurocorps (COMEC) is a three star General from one of the Eurocorps Framework Nations. The post of Commanding General is filled on a rotational basis of two years. The current COMEC is the Spanish Lieutenant General Alfredo Ramirez. He took over this post June 25th, 2015. He is responsible to the Eurocorps Common Committee, the political-military decisive body representing the Framework Nations.
His command is exercised from Headquarters Eurocorps (HQ EC) in Strasbourg, France.